2019 Rogue's Lot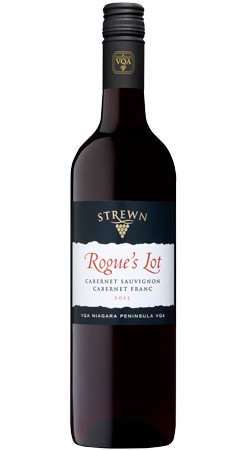 We craft this wine to be enjoyable and social - all at the proper distancing these days - has no pretensions except for the pleasure it brings to your glass. Rogue's Lot, a Cabernet Franc-Cabernet Sauvignon blend, has lovely fruit flavours along with a smooth, gentle texture.
Wine Specs
Varietal
Cabernet Franc-Cabernet Sauvignon
Appellation
VQA Niagara Peninsula
Residual Sweetness
14.8 g/L
Wine Profile
Tasting Notes
Aromas of ripe raspberry and cherry with floral and spice notes. Flavours of fresh cherries and bramble berries with a light touch of oak mix with the slightest hint of sweetness.
Winemaker Notes
The fruit - Cabernet Franc generally first, followed by the Cabernet Sauvignon - arrives in several lots in the latter part of the harvest season. Some is crushed to small open-top bins where that are "punched down" manually to help extract more of the aromas, flavours and colour from the skins. The rest goes into red fermenting tanks where the "pump over" method of regularly wetting the skins produces a gentle extraction with few harsh elements. Following fermentation and pressing, the wine settles in tanks for a few weeks and is then transferred to mostly seasoned, older barrels which help soften the wine over the next few months before it is filtered and bottled.
Product Reviews
Jen Danchuk
(Apr 16, 2020 at 12:38 PM)
One of my favourite wines! I found it when my family from Australia was visiting and we bought every bottle we could find at the LCBO. It's the only wine we drank for the remainder of their visit.
Kristina Lauzon
(May 19, 2020 at 4:08 PM)
I am NOT a red wine drinker at all and I LOVED this wine. Thank you very much for such an excellent product.
Matt Gray
(Sep 12, 2020 at 4:46 PM)
It is not hard to find an expensive bottle of wine. What is harder to find is an exceptional bottle of wine at a reasonable price. I am trying this red for the first time and it will not be the last. Very nice.