2016 Terroir Strewn Three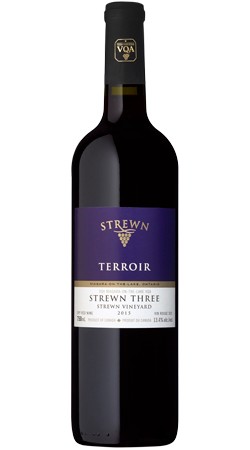 Strewn Three, our flagship red wine, is a three varietal blend that is unique each time it is made. In the past decade there have been only four vintages - 2010, 2012, 2015 and 2016 - where the grapes were of the outstanding quality required to make our top-tier Terroir reds.
The three classic varietals of the Bordeaux Region of France, are used to make Strewn Three. Merlot is harvested first, followed by Cabernet Franc and finally Cabernet Sauvignon. Each of the three varietals provides a specific element to the final blend: Merlot gives softer tannins, smooth texture and ripe fruit flavours, Cabernet Franc brings spiciness and earthiness, and Cabernet Sauvignon adds firm tannins and notes of cassis.
The 2016 Strewn Three is 46% Cabernet Sauvignon, 32% Cabernet Franc and 22% Merlot. While still young, it is drinking remarkedly well: round, smooth and silky. If you are patient you will be rewarded with an even more expressive wine in two years. Will cellar another 5+ years.
Wine Specs
Varietal
Bordeaux Red Blend
Appellation
VQA Niagara Peninsula
Residual Sweetness
3.4 g/L
Wine Profile
Tasting Notes
The 2016 Terroir Strewn Three shows the artistry of blending the three classic Bordeaux grape varietals Cabernet Sauvignon, Cabernet Franc and Merlot. It displays flavours of ripe fruit, including blackberries, dark cherries, and cassis, interplaying beautifully with notes of tobacco, menthol, black pepper, dark chocolate, leather, and vanilla. Medium to full bodied wine with fine tannins, round texture, a juicy mouthfeel, and flavourful finish. Best serving temperature 16-19C
Winemaker Notes
The 2016 Strewn Three is our magnum opus from a memorable growing season which will go down in the books as one of the most stellar vintages in recent history. A specially crafted Bordeaux-styled assemblage of 46% Cabernet Sauvignon, 32% Cabernet Franc and 22% Merlot harvested from the premium Home Farm vineyard, with a single barrel of Cabernet Franc selected from the winery owner's vineyard. The varietals were aged separately in oak for a period of 20 months, prior to the blending of 26 specially selected barriques, from both new (54%) and seasoned 46%) barrels, from French, Canadian and American cooperages. A wonderful example of an assemblage which not only displays the strengths of the individual Cabernet Sauvignon, Cabernet Franc and Merlot, but the greater tasting experience that comes with a well-integrated marriage of the varietals.
Food Pairing Notes
A wonderful match with many rich, beef dishes such as Seared Garlic & Rosemary Seasoned Filet Mignon served with onions, Brussels sprouts and truffle mashed potatoes.
Product Reviews
Beatrice Cleary
(Jan 15, 2023 at 9:02 AM)
This is a delicious wine that can be sipped with dinner or alone! I have never oohed or aahed as much as when I tasted this one!