Share the Celebration Collection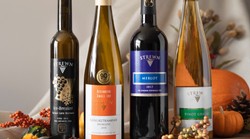 Your Share the Celebration pack includes three bottles each of 2018 Premium Pinot Grigio, 2018 Distinctive Small Lot Gewurztraminer Divergent, 2016 Premium Merlot and 2014 Ice-Breaker Select Late Harvest Vidal.
You may want to enjoy them with your favourite holiday menu but we have included four delicious holiday recipes from the Wine Country Cooking School that will pair perfectly with the wines!
Start the celebration by matching Pinot Grigio with Smoked Trout Spread then offer a choice of white (DSL Gewurztraminer Divergent) or red (Premium Merlot) with the main course of turkey, ham or try Roast Cornish Game Hen with Dried Cherry & Apple Stuffing. For dessert, match pumpkin pie or Individual Pumpkin Flans with Ice-Breaker, a second press of Icewine grapes with about one-third the sweetness.