2018 Cottage Block Sauvignon Blanc Riesling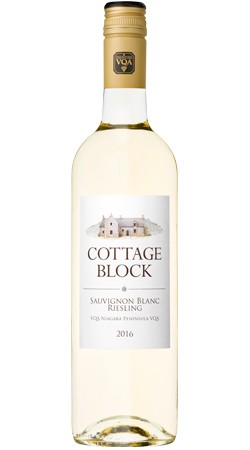 Sauvignon Blanc and Riesling are two of the great white grape varieties of the world. Sauvignon Blanc originates from the Bordeaux region of France and is known for its tropical fruit aromas, savoury and herbaceous notes. Riesling hails from the cooler climate of Germany's Rhine region and brings wonderful fruit and floral aromas, and a bracing freshness. Strewn's Cottage Block Sauvignon Blanc Riesling blend delivers all of the above with a touch of residual sugar to balances the refreshing acidity on the finish.
Wine Specs
Varietal
Sauvignon Blanc-Riesling
Appellation
VQA Niagara Peninsula
Residual Sweetness
9.3 g/L
Wine Profile
Tasting Notes
The two varieties come together showing aromas of tropical fruit with notes of floral and honey. Lemon and grapefruit merge with a touch of sweetness on a smooth palate before yielding to a fresh, lingering finish.
Winemaker Notes
Sauvignon Blanc ripens early and was harvested from five separate blocks in late September and early October at an average of 21.2 Brix. Riesling, which is usually among the last white grapes we harvest, came in slightly later from early to mid-October, also from five separate blocks, at an average of 18.6 Brix. The two varieties were separately crushed, pressed and fermented at cool temperatures in stainless steel tanks, and blended shortly before bottling.
Product Reviews
Gwen C
(Jan 1, 2021 at 5:09 PM)
I picked up this bottle based on the VQA as I knew I would be assured of quality. It was excellent to drink even all on its own. None of that fuzzy-headed feeling I get from so many wines as I seem to be very sensitive. Clean and crisp. Will definitely be buying this again soon.