Outdoor Tasting Experiences
In the Vineyard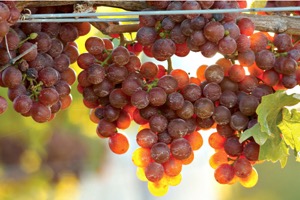 RESUMING June 11, 2021
Explore what is happening in our on-site vineyard through an immersive, guided tour followed by an outdoor tasting by the vines, including one wine made from grapes grown in this vineyard. Rain or shine, this 45-minute experience is offered Friday through Monday at 11:30 am and 2:30 pm. Wear comfortable flat soled shoes and bring an umbrella if necessary. Maximum 8 people per time slot. $25 per person.
On the Patio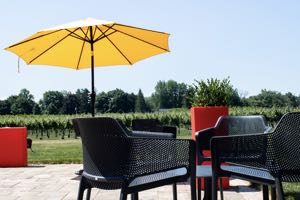 RESUMING June 11, 2021
The expansive patio on the back lawn is close to Four Mile Creek with a view of the vineyard. It's a perfect spot for a 45-minute personalized wine experience. Most tables are for two people, with a limited number of tables for four people in each time slot. Bookings/groups cannot be combined into larger tables. Offered Mon-Fri on the hour between 12-4 pm. Sat-Sun 11 am-4 pm. $20 Sunday to Friday and $30 Saturday.
In the Courtyard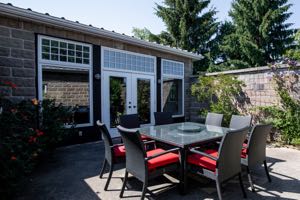 RESUMING AUGUST 2021
Enjoy the luxury of a private, 45-minute seated tasting in the courtyard of Winery House, the owners' former residence. Your table for eight is protected from view and in the case of inclement weather, the group can open the patio doors and move into the private kitchen. Your tasting features winery-exclusive wines. Offered at 11 am and 2 pm daily. Total price $400 (flat fee price includes up to 8 guests).
Our On the Patio and In the Vineyard outdoor wine tastings resume on June 11. At this point Indoor Tastings have to wait until Step 3, the week of July 26. We look forward to seeing you this summer!

Strewn is committed to providing safe, engaging wine experiences following COVID protocols. Our 30-minute tastings are personalized to your preferences, and we will do our best to find you at least one great wine match! Experiences start with our palate cleansing Sparkler followed by three wines from the appropriate wine portfolio to best suit your taste.

All our experiences are designed per individual (no sharing) and a booking is required for each person who will be present. Non-drinkers will be offered alternative beverages. Due to space restrictions, we are unable to accommodate children in our indoor experiences. Per Ontario regulations, non-medical masks must be worn in all public indoor and outdoor spaces, and removed only during a tasting.
Indoor Tasting Experiences
Heritage Room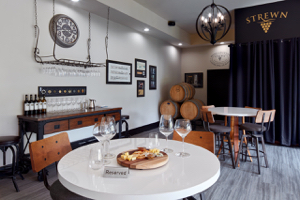 CLOSED UNTIL FURTHER NOTICE
The Heritage Room is our premium indoor tasting room and this 45-minute, seated wine experience is designed to offer the greatest choice of wines, presented in appropriate stemware in an order where each wine builds upon the previous one. Includes a cheese board per table. A booking is limited to one to four people who will be seated at the same table. Three safe-distanced tables per time slot. Offered Mon-Fri at 1 and 3 pm. $25 per person and Sat/Sun at 11:30 am, 1 pm, 2:30 pm and 4 pm $35 pp.
Terroir Bar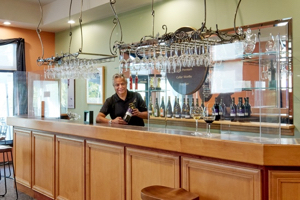 CLOSED UNTIL FURTHER NOTICE
Our very best wines are designated Terroir. Bordeaux-varietal Terroir reds - Cabernet Franc, Cabernet Sauvignon and Merlot - are only made in exceptional years. Terroir whites include Sauvignon Blanc, Riesling, Gewurztraminer and our reserve Chardonnay Trio. This is a 30-minute seated tasting (1 booking for two people / 1 booking for up to 4 people per time slot). Offered every 45 minutes starting at 11 am with the final experience starting at 4:15 pm. Sun-Fri $18 per person; Saturday $24 pp.
Main Bar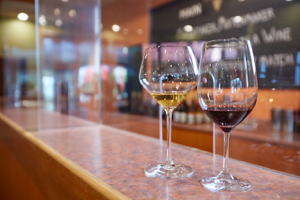 CLOSED UNTIL FURTHER NOTICE
The main tasting bar is a great place to start if you are new to Strewn or already enjoy our winery-exclusive premium wines. Select from Rieslings at two sweetness levels, Pinot Blanc, Pinot Grigio, Cabernet Sauvignon, Cabernet Franc, Merlot, Meritage and Ice-Breaker white and red dessert wines. This 30-minute seated experience is offered every 45 minutes between 11:15 am and 4:30 pm (two bookings for up to 2 people per time slot). Sun-Fri $14 per person and $16 pp on Saturday.