From November 1 to April 30, our off-season hours are 10:30 am to 5:30 pm. Indoor wine tastings are available between 11 am and 5 pm. Main Bar tastings are 25 minutes and start on the hour and the half hour. Reserve Terroir tastings in the Heritage Room are 40 minutes and offered on the quarter hour between 11:15 am and 4:15 pm. Strewn Wine Club Members & VIP Guests please contact hospitality@strewnwinery.com to book your experiences.
Strewn specializes in personalized tastings for 2 to 4 people. All guests must be at least 19 years of age and a booking made for each person, including non-drinkers who will receive a special discount and be offered non-alcoholic beverages. Due to space limitations, only those who paid for a tasting are permitted in the tasting rooms.
Please book your wine experience prior to your visit. Walk-ins will be accommodated as space permits.

Fees are non-refundable; with adequate notice we are happy to reschedule a booking to an available time. Check in with staff in the wine boutique and please arrive 10 minutes before your experience is scheduled to start to ensure you are seated at the appropriate time.
Indoor Tasting Experiences
Main Bar Personalized Tasting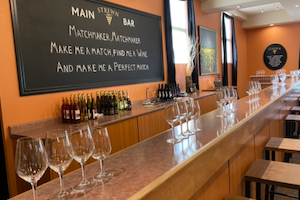 This personalized 25-minute seated tasting is perfect for those who want a shorter experience and are looking for winery exclusive, ready-to-drink white, rosé and red wines. Offered from 11 am until 4:30 pm on the hour and the half hour. Your wine consultant will select three wines to suit your preferences. $15 per person (non-drinkers rate $10).
Please arrive 5-10 minutes before your seating is scheduled to start as we not be able to seat late comers. Due to space constraints only those who have paid for a tasting are allowed in the tasting room.
Reserve Terroir Tasting Heritage Room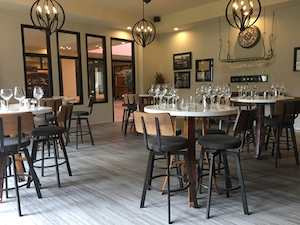 Personalized 40-minute Terroir tastings now take place in the beautiful Heritage Room. Our very best wines are designated Terroir including Bordeaux-varietal reds - Cabernet Franc, Cabernet Sauvignon and Merlot - only made in exceptional years. Start with sparkling Muselet followed by three wines chosen to suit your palate, served in varietal appropriate stemware. A booking is limited to one to four people who will be seated at the same table (tables cannot be moved together). $25 per person. Offered at 11:15 am, 12:15, 1:15, 2:15, 3:15 and 4:15 pm.
Club Member & VIP Guest Bar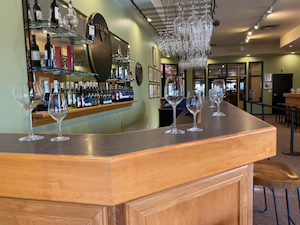 We have converted the former Terroir Bar in the tasting room into an area exclusively for Strewn wine club members and VIP guests.
Tastings are 40 minutes in length and start at 11:45 am, 12:45, 1:45, 2:45, 3:45 and 4:45 pm. In each time slot, there is room for one booking of up to four people and two bookings each for a maximum of two people.
These complimentary or specially priced tastings must be booked by Strewn's Hospitality Team. To inquire about availability and/or to book a tasting, please email hospitality@strewnwinery.com.