Please note: A reservation is required for all guests in attendance - an experience cannot be shared by two people. One child per booking for On the Patio can be accommodated and the child needs to remain seated during the experience. Unfortunately we are unable to accommodate children in our indoor experiences. We provide a 50% discount for non-drinkers and offer non-alcoholic beverages. Effective July 23rd, 2020, the Town of Niagara-on-the-Lake has mandated that non-medical masks or face coverings be worn in all public indoor spaces. Masks can be removed during a tasting. Outdoor experiences are offered until October 13 weather permitting.
In the Vineyard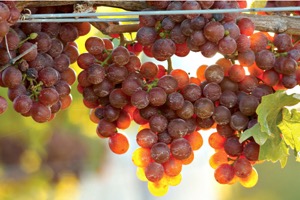 Explore what is happening in our on-site vineyard through an immersive, guided tour followed by an outdoor tasting by the vines, including one wine made from grapes grown in this vineyard. Rain or shine, this 45-minute experience is offered Friday through Monday at 11:30 am and 2:30 pm. Wear comfortable flat soled shoes and bring an umbrella. Maximum 8 people per time slot. $25 per person includes tax.
On the Patio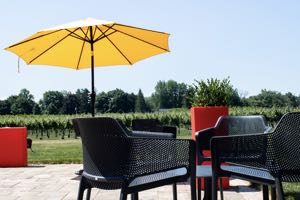 The expansive patio on the back lawn is close to Four Mile Creek with a view of the vineyard. It's a perfect spot to relax and enjoy a 45-minute personalized wine experience. If the weather is inclement, we move to the winery tank room. Each booking is limited to one to four people and bookings cannot be combined. Offered Mon-Fri on the hour between 12-4 pm. Sat-Sun 11 am-4 pm. $20 weekdays and $30 weekends, tax included.
In the Courtyard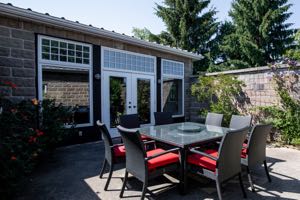 Enjoy the luxury of a private, 45-minute seated tasting in the courtyard of Winery House, the owners' former residence. Your table for eight is protected from view and in the case of inclement weather, the group can open the patio doors and move into the private kitchen. Your tasting features winery-exclusive wines. Offered at 11 am and 2 pm daily. Total price $400 (flat fee price includes up to 8 guests). Tax included.
Indoor Tasting Experiences
Heritage Room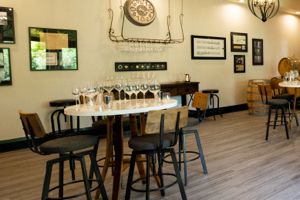 Created in 2018, The Heritage Room, is our premium indoor seated space and plays homage to the winery's industrial and agricultural roots as a fruit canning company. Bookings for this 45-minute, seated wine experience are limited to one to four people (within one social circle/bubble). Heritage Room experiences are offered Mon-Fri at 1:00, 2:30 pm and 4:00 pm. $20 per person and Sat/Sun at 11:30 am, 1 pm, 2:30 pm and 4 pm $30 pp.
Terroir Bar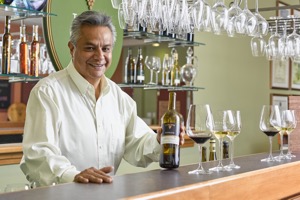 Our very best wines are designated Terroir. Bordeaux-varietal Terroir reds are only made in exceptional years. Terroir whites are Viognier, Sauvignon Blanc, Riesling, Gewurztraiminer and our Chardonnay Trio (fermented in Canadian, French and American oak barrels). 30-minute seated experiences are offered every 45 minutes starting at 11 am with the final experience starting at 5 pm. Mon-Fri $18 per person; $24 pp on the weekends.
Main Bar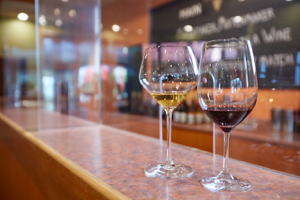 The main tasting bar is a great place to start for Strewn's winery exclusive wines: Rieslings at two sweetness levels, Pinot Blanc, Pinot Grigio, Sparkler (a sparkling Sauvignon Blanc), Rosé, Merlot, Cabernet Sauvignon, Cabernet Franc and Ice-Breaker white and red dessert wines. 30-minute standing experiences are offered every 45 minutes between 11:15 am and 4:30 pm. Mon-Fri $14 per person and $18 pp on weekends.