2015 Terroir Strewn Three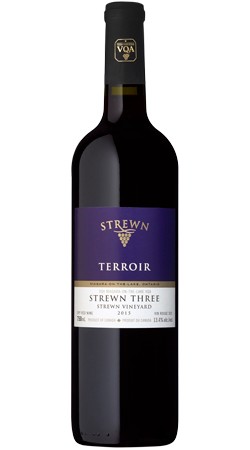 Strewn Three, our flagship red wine, is a three varietal blend that is unique each time it is made. The 2015 Strewn Three is 50% Cabernet Sauvignon, 28% Cabenet Franc and 22% Merlot. While still young, it is drinking remarkedly well: round, smooth and intense. If you are patient you will be rewarded with an even better wine in two years. Will cellar another 5+ years.
Wine Specs
Varietal
Bordeaux Red Blend
Appellation
VQA Niagara-on-the-Lake
Residual Sweetness
3.4 g/L
Wine Profile
Tasting Notes
Full and round with aromas and flavours of flowers (carnations and violets) and fruit (raspberries, black berries, sour cherries and plums) with chocolate, coffee, tobacco, leather, licorice and spice. The long, velvety finish balances the acidity. Best serving temperature 16-19C
Winemaker Notes
The pièce de résistance from a celebrated season, the 2015 Strewn Three is a specially crafted Bordeaux-styled assemblage of 50% Cabernet Sauvignon, 28% Cabernet Franc and 22% Merlot harvested from the premium Home Farm vineyard. The varietals were aged separately in oak for a period of 21 months, prior to the blending of 18 specially selected barriques, from both new (78%) and seasoned (22%) barrels, from French, Canadian and American cooperages. A wonderful example of an assemblage which not only displays the strengths of the individual Cabernet Sauvignon, Cabernet Franc and Merlot, but the greater tasting experience that comes with a well-integrated marriage of the varietals.
Food Pairing Notes
A wonderful match with many rich, beef dishes such as Seared Garlic & Rosemary Seasoned Filet Mignon served with onions, Brussels sprouts and truffle mashed potatoes.
Other Notes
The three grapes that go into this blend are all estate fruit, the grapes are not surprisingly 50% Cabernet Sauvignon / 28% Cabernet Franc and 22% Merlot aged 21 months in 78% new barrels of which there were 18, and a League of Nations style mix of French, American and even some Canadian … the name for the wine was inspired by a California wine from Cain – Cain Five. This best barrel blend is a beauty with notes of chocolate, cherry, vanilla, cigar/tobacco with hints of violet aromas as well – the palate seems almost smooth and silky with enough tannin umph to keep this in your cellar a good 5-7 years … the spicy finish helps bring everything before it in to perspective. Price: $46.00 – Rating: ****+ Michael Pinkus Wine Review
Product Reviews
Ken Johnson
(Jun 21, 2020 at 6:53 PM)
Until I opened my first bottle 2 weeks ago, my favourite vintage was the 1998. Oh my goodness!