Wine Wisdom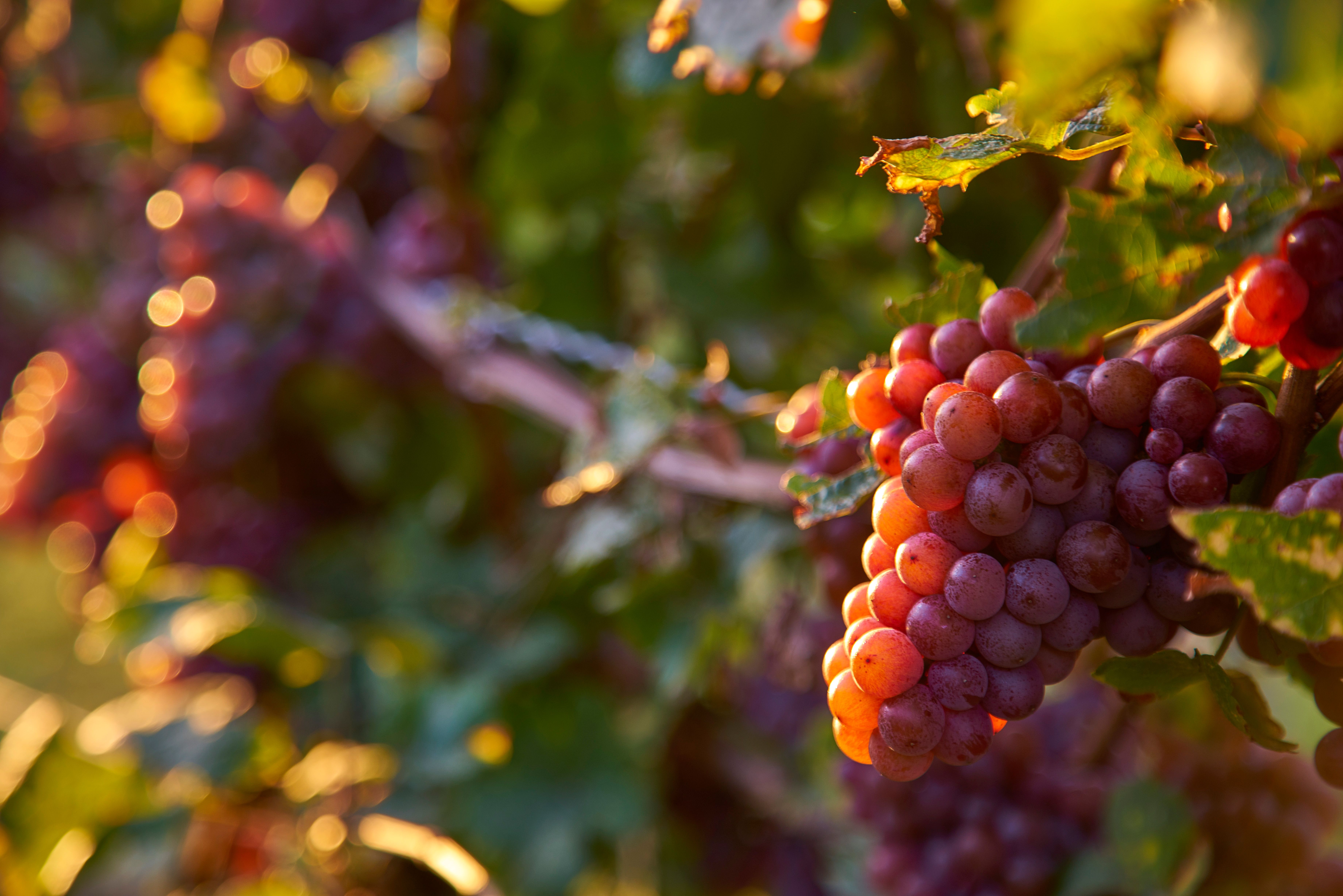 Gewurztraminer is the hard-to-say name of a unique and aromatic grape varietal that belongs to the Vitis Vinifera family. The varietal, originally called Savagnin blanc (not the widely-known Sauvignon blanc), comes from the Traminer region of northern Italy and has become known as Traminer there. Over time Gewurztraminer made its way into Germany and developed into the spicier varietal that we know today. In fact, the word Gewurz is German for spice.
During veraison, "the final stage in the grape growing process", the fruit starts to change color on the vine and develop a beautiful bronze colour before harvest. As Gewurztraminer is a white wine, the juice is not fermented on the skins as this is what gives a wine its primary color.
Gewurztraminer is an ideal grape varietal for the cool climate grape growing region of Niagara Peninsula and produces medium to full bodied white wines with intensely fruity and floral aromas. It is somewhat of a cult varietal due to its intensity and distinct character.

Gewurztraminer can be made in a variety of wine styles from fully dry to off dry to sweet. Food pairings for Gewurztraminer are vast as it is a wine which can stand up to diverse and flavorful dishes. These wines work beautifully with Asian cuisine like spicy Thai, or aromatic dishes consisting of ginger, saffron or curry. Western style dishes are also greatly complimented by Gewurztraminer like the tradition turkey dinner, as the complexity of these wines works well with the many flavors involved.
At Strewn we have successfully worked with this captivating varietal for more than 24 years and produced a variety of styles, including from time to time, a unique barrel aged Gewurztraminer. We currently have three wines made from Gewurztraminer, two of which are dry wines, only available at the winery or through our online store.

Our top-tier 2017 Terrior Gewurztraminer ($28) displays a spicy, earthy-floral character and shows good length and viscosity on the palate. Early in 2020 we sent the wine to the top two international wine competitions in France and are delighted to share that it won Gold at both Citadelles du Vin and International Challenge du Vin.

Strewn's second winery-exclusive Gewurztraminer is the 2018 Distinctive Small Lot Gewurztraminer Divergent ($24). This wine is made in a fruit forward and aromatic style with a fresher finish to appeal to a wider audience. It was extremely popular this past summer with our patio tastings and received a 90-point score from Natalie MacLean.

And finally Strewn has long produced a top selling, semi-dry, Two Vines Riesling-Gewurztraminer for the LCBO market ($13.95). This wine combines Riesling, which provides lovely acidity, and Gewurztraminer, which delivers aromatics and body. It recently received a score of 90 points from Carolyn Evans Hammond in the Toronto Star and may also be purchased online (free courier shipping with any 12-bottle order).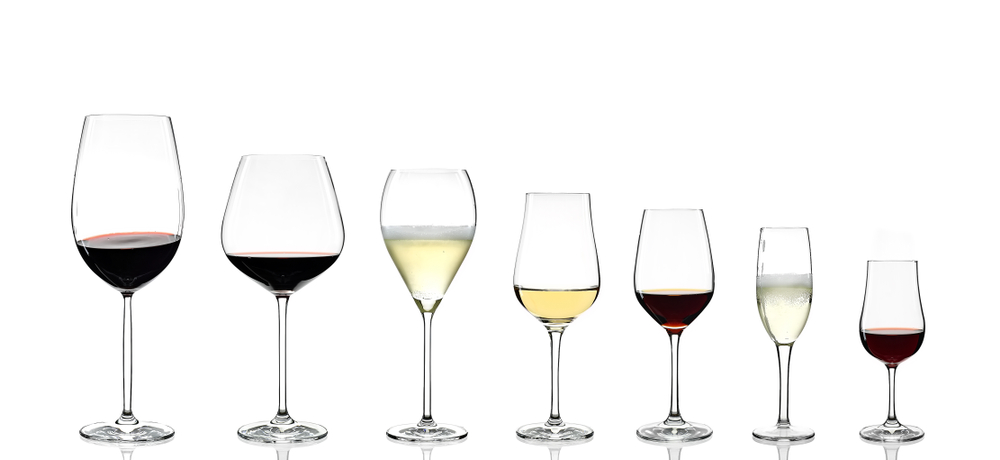 Does the size, shape and depth of a wine glass really make a difference to your enjoyment of wine? The short answer is proper stemware can often compliment or diminish aromas and flavours.
While there are many different styles of wine made from vastly different varietals, most people tend to pour it into whatever wine glasses they have at home. However, those who have enjoyed a wine tasting at either our Terroir Bar or in the Heritage Room will probably recall the many different glasses hanging in the racks. Let's look at three main glasses we use that allow the wines to truly show their full potential.

The first is the tall, slim Aromatic White glass with a narrow bowl and tight mouth, suitable for use with Riesling and Sauvignon Blanc. Aromatic wines need very little time to breath and this shape of glass tends to emphasize ripe fruit character balanced by acidity, while the small mouth preserves floral aromas.

Regardless of the sweetness level of the wine - totally dry, semi-dry or semi-sweet – the narrow shape of the aromatic glass allows the wine to flow on to the front of your palate then down the sides to detect fruit and acidity characteristics. The small opening at the mouth allows minimal airflow to enter the glass so the wine stays cool and fresh (ideal serving temperature is between 6 and 9 Celsius).
The second glass style is Oaked Chardonnay with a very large, open bowl. This is the stemware of choice to showcase our award-winning, barrel fermented Terroir Chardonnays, which are fermented in new oak barrels then aged in them for up to a year. The resulting wine possesses both the primary aromas and flavors from the ripe fruit and the secondary aromas and flavors from the barrel.
The large open bowl allows the wine to breath, express itself and spread out across the width, which helps the wine moderate its temperature. Tip: oaked whites are often served too cool and lose their creaminess, one of the main attributes of this style of wine. Best served at 10 to 13 Celsius.
The third style of stemware is the large Bordeaux glass with a wide mouth and deep bowl. Strewn specializes in red wines using three of the traditional Bordeaux varieties: Cabernet Sauvignon, Cabernet Franc and Merlot. Our wines include premium reds (made annually to reflect vintage variation), Distinctive Small Lots (wines with a twist) and Terrior reds (made only in years with conditions that allow the production of our top-tier reds) plus some very approachable red wines for the LCBO and grocery market.

These thicker-skinned Bordeaux varietals tend to make deeper colored, more textured, fuller bodied, higher alcohol wines. Wines such as these need a glass which allows them to open up and express themselves, which is why the Bordeaux glass is just about one of the most important used at Strewn. Tip: Fill a Bordeaux glass no more than halfway. High tannin wines need room in the glass to allow proper airflow to open up the wine's flavors and aromas as well as allowing the burn of the ethanol gas to blow off.
Bordeaux varietals are very forward and aggressive when first opened and the size of the glass will greatly aid the wine's development. This is a glass which is a must have for any lover of truly full-bodied reds. Ideal serving temperature for Bordeaux style wines is between 16 to 19 Celsius.
At the end of the day, you can drink wine out of any glass but to effectively taste a wine it surely helps to invest into some varietal specific stemware.

Evan Clermont, WSET 3 Graduate
Hospitality Team Member