Personalized Wine Experiences
Strewn re-opened on Friday, June 19. To provide a safe, welcoming environment, we can accommodate significantly fewer guests at one time. As a result, we have created new curated experiences that can be personalized for you. All experiences showcase winery-exclusive wines that are only sold onsite and through our online store and are offered at specific times. Bookings will soon be available online. In the interim, you may book by phoning the winery at 905-468-1229 and asking for Hospitality. Payment is due at the time of booking.
What We Do Best:
Strewn makes international award-winning wines that express the Niagara Terroir, display varietal characteristics and reflect vintage variation. Our focus is Bordeaux-varietal red wines (Merlot, Cabernet Sauvignon and Cabernet Franc as single varietal releases and blends), full-bodied Chardonnays and fresh, aromatic whites. Our certified-sustainable wines are produced in small lots, usually less than 200 cases and sometimes as few as 40 cases, under the careful attention of winemaker Marc Bradshaw and his team.
PLEASE NOTE WE ARE CURRENTLY ONLY TAKING RESERVATIONS FOR OUTDOOR WINE EXPERIENCES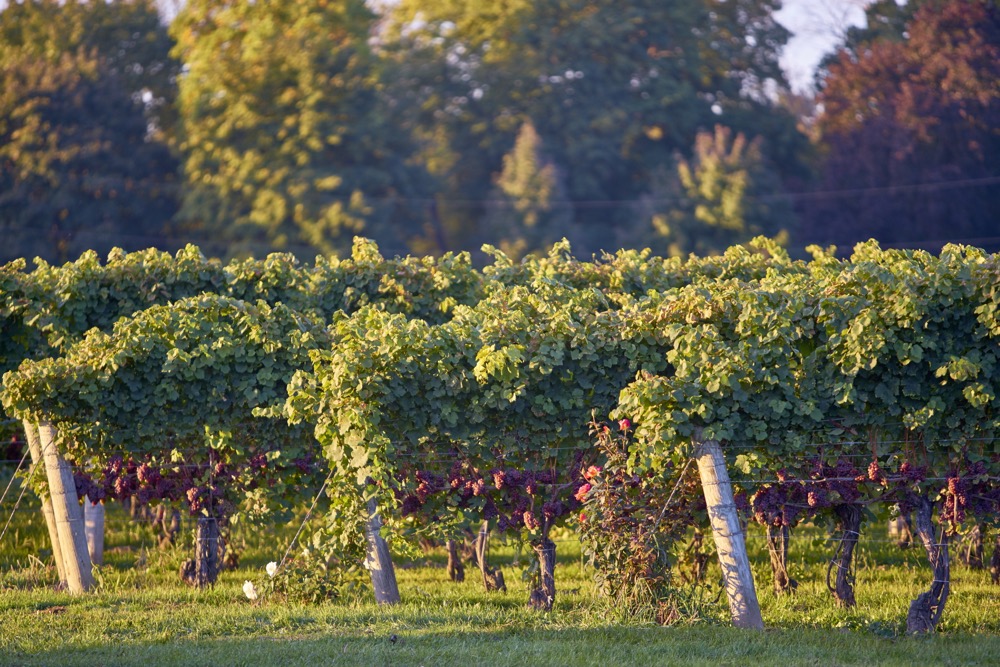 Outdoor Tasting Experiences
In the Vineyard OUTDOORS
Explore what is happening in our on-site vineyard through an immersive, guided tour followed by an outdoor tasting by the vines, including one wine made from grapes grown in this vineyard. Rain or shine, this 45-minute experience is offered Friday through Monday at 11:30 am and 2:30 pm. Maximum 8 people per time slot. $25 per person.

On the Patio OUTDOORS
The expansive patio on the back lawn is close to Four Mile Creek with a view of the vineyard. It is a perfect spot to relax and enjoy a 45-minute personalized wine experience. If the weather is inclement, the wine experiences will take place in the winery tank room. At this time, each booking is limited to two to four people and cannot be combined to form a larger group. Offered Monday to Friday starting on the hour between noon and 4 pm; $20 per person. Saturday between 11 am to 5 pm, and Sunday 11 am to 4 pm; $30 per person.

In the Courtyard (For Private Groups of Up to Eight People) OUTDOORS
Enjoy the luxury of a 45-minute, private, seated tasting in the courtyard of Winery House, the owners' former residence. Your table for eight is protected from view and in the case of inclement weather, the group can open the patio doors and move into the kitchen.
Offered at 11 am and 2 pm daily; $400 (price applies if there are fewer than eight people)

TO MAKE A BOOKING FOR JUNE 27 OR JUNE 28 PLEASE CALL THE WINERY AT 905-468-1229
Indoor Tastings beginning July 2020
In the Heritage Room
The room pays homage to the roots of the property as a fruit canning company. We have reduced the number of tables to allow for safe distancing. At this time, bookings for the 45-minute wine experience are limited to two to four people. Monday to Friday at 1 pm, 2:30 pm and 4 pm; $20 per person. Saturday and Sunday at 11:30 am, 1 pm, 2:30 pm and 4 pm; $30 per person.

At the Terroir Bar
For more than 20 years our very best, top-tier wines have been designated Terroir. Bordeaux-varietal Terroir reds are only made in exceptional years. Terroir whites include classic French varietals such as Viognier, Pinot Blanc, Sauvignon Blanc, Riesling, Gewurztraminer, and our Chardonnay Trio. Thirty-minute experiences offered every 45 minutes starting at 11 am and finishing at 5 pm (final session on Saturday starts at 5 pm). Monday to Friday $18 per person. Saturday and Sunday $24.

At the Main Bar
A great place to start if you are looking for Strewn premium wines, including Rieslings at two sweetness levels, Pinot Grigio, Sparkler (a sparkling Sauvignon Blanc), Merlot, Cabernet Sauvignon and dessert wines. Thirty-minute experiences offered every 45 minutes between 11:14 am and 4:30 pm; final experience starts 5:15 pm on Saturday. Monday to Friday $14 per person. Saturday and Sunday $18 per person.