March 4, 2019 | Sommelier Tips | Strewn Winery
When is a Wine Ready to Drink?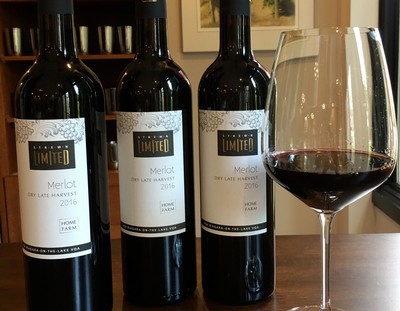 As the saying goes: the best time to drink a wine is when the bottle is open! All kidding aside, at least 99% of wines are ready to drink by the time they are available for sale. However some wines do benefit from cellaring and will be more enjoyable to drink when they are mature in five, eight, 10 years or more. Aging allows flavours to mellow and the wine becomes more harmonious, balanced and complex.
It is difficult, if not impossible, to pinpoint exactly when a wine will be at its peak. Here are a few factors to keep in mind when you are trying to decide whether to drink now or save for later.

1. Tannins
Red grapes traditionally associated with the Bordeaux region such as Cabernet Sauvignon, Cabernet Franc and even Merlot are often made with concentration of flavour, more structure and higher levels of tannins. When they are young, these wines can be described as tight, closed, astringent or harsh.

Over time as tannins combine and soften, the wines will develop a pleasant silken texture. We fondly remember the Terroir Cabernet Franc from the 1998 vintage which was so tannic and assertive when it was bottled that it was nicknamed the Cellar Monster (but drinking well 15 years later).

2. Acidity
Acidity keeps a wine tasting fresh but becomes gentler over time. White wines with high acidity have greater potential to age gracefully because the acidity helps protect against oxidation.

Of all the white varieties, Riesling continues to evolve and mature over time in the bottle with its fresh, fruity flavours replaced with more minerality and classic bottle-aged characteristics. Strewn's soon to-be-sold out Riesling from 2014 is a gorgeous example of this.

As the fruit drops away in a lower-acid Chardonnay, it will show more toasty oak and earthy notes which some love and others don't.

Icewines made from Vidal or Riesling grapes are noted for their sweetness (residual sugar) which when balanced by acidity allows them to evolve from fresh fruit flavours to dried fruits, caramel and butterscotch.

3. Vintage
Mother Nature definitely has a say in whether a wine will be suitable for cellaring. Niagara is considered a cool climate wine region and not every year has enough hot, dry, sunny days to produce grapes with concentrated flavours and higher levels of tannins. On average, Strewn makes its top-tier Terroir reds every second year. The last vintage was 2016 and these wines are benefiting from still more mellowing time before being released. It pays to know weather patterns by year!

4. Viticultural Practices and Wine-Making Style
What happens in the vineyard can play a significant role in producing grapes with bigger flavour and tannins. These include shoot thinning, leaf removal and canopy management to open grapes to the sun, and crop thinning to ensure maximum flavour and ripeness.

Wine-making style is also something that impacts whether a wine is a suitable candidate for cellaring. With the demand for ready-to-drink wines, particularly reds, winemakers can craft wines that are more fruit-forward, softer and lower in tannins. They may be delicious to drink while young but won't improve with cellaring.
5. Proper Storage
Wines keep best in consistent temperature rather than ones that fluctuate. Ideally, temperatures should be around 13°C / 55°F. The warmer the temperature and the more temperature variations your wine undergoes, the sooner it will mature.
6. Personal Preference
Tastes differ and yours is the one that counts! Do you prefer wines with a fresh, fruity quality or those with heavy tannins? Vibrant and fruity or soft and mellow? Rich and velvety? Know the wine styles you enjoy and don't be swayed by someone else's. Of course, you can always put aside a bottle that will benefit from aging to celebrate a special occasion in the future.
How to Track Wine Aging in the Cellar
Taste! Open a bottle periodically (perhaps once a year); part of the pleasure is seeing how it is developing
Keep a wine journal or diary and record the date you taste a bottle along with your comments. Once you don't notice changes from one bottle to the next, it probably won't benefit from additional cellaring.
Use cellar labels to help you remember a wine that may be near its prime (mark the date by which the bottle is to be opened).
Comments
Commenting has been turned off.