December 23, 2019 | Sommelier Tips | Hospitality Team
What Makes a Great Vintage?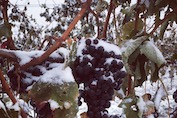 One of the questions, our Hospitality Team is frequently asked is "is this going to be a great vintage"? In Niagara, when we say it is a great vintage, we normally mean the red grape varieties are fully ripe at harvest, creating intensity of flavour and tannin. Mother Nature needs to give us lots of hot, dry, sunny weather right through October. Being a cool climate wine region, this doesn't happen every year!
The best vintages for producing the high-quality Bordeaux red grapes that Strewn grows (Cabernet Sauvignon, Cabernet Franc and Merlot) happen on average every couple of years. We produced top-tier Terroir red wines in 2002, 2005, 2007, 2010, 2012, 2015 and 2016. We are now in the longest gap between Terroir vintages in more than 20 years.
Fortunately, the growing conditions in Niagara allow us to craft good to outstanding white wines virtually every year. Many of the white varieties benefit from slightly cooler weather, which can create refreshing acidity and crisp flavours.
What Type of Year was 2019
April and May were generally cooler and wetter than normal, which meant bud burst and blossom were about 10 days behind. Then on June 21, the first official day of summer, it turned warm and sunny, and the growing season was under way!
Warm, sunny weather continued through July and August. September, a key month for red grapes to ripen, started cool with some rain then finished with cool, sunny weather to begin the harvest season.
The cool fall weather, combined with low humidity and sunshine, provided a boost for grapes in terms of phenolic ripeness and prevented breakdown of fruit. This allowed an extended period for grapes to fully ripen, followed by an unusually early cold snap in mid-November (the earliest start for picking Icewine grapes on record!).
Most white varieties were harvested early and of excellent quality. To help reach optimal ripeness, many growers reduced the crop for the red varieties, particularly for later maturing varieties. Harvest extended into early December, sometimes taking place in the snow.
According to VQA Ontario, expect a full range of exceptional white wines defined by crispness, acid and fruit. Early reports suggest some red grapes benefited from the concentrating effect of freeze-thaw that comes with being harvested late in the season – Strewn harvested our red grapes at the Home Farm the third week of November.
A Sommelier's perspective.
In my mind, a good year is when Mother Nature puts everything together that allows winemakers to make different styles of wines from light, crisp and refreshing white wines, creamy Chardonnays, light and medium bodied red wines to full-bodied red wines.
Every wine region in the world has "optimal growing conditions" for its wine style, the varietals grown there, geographic location and weather. For example:
The Champagne region of France produces the best sparkling wine in the world. Due to Champagne's northern location, the growing season is short, producing under-ripe grapes with high acidity and low sugar, perfect for making sparkling wines
Napa Valley, on the other hand, is known for powerful Cabernet Sauvignons because its location and hot, dry weather conditions are perfect for growing very ripe grapes
The Niagara Peninsula region is about wine more than style or one specific grape variety. We grow many varietals, and make wine using many wine styles. Then there can be very unpredictable weather patterns s- some years are cool and wet while others are hot and dry with a long growing season.
Regardless of location, varietal or wine style, winemakers always want perfect grapes to make their best wines.

Juan Nunez-Sanchez, Strewn Estate Sommelier
Comments
Commenting has been turned off.