December 23, 2019 | Wine & Food Pairing, Wine Styles & Varietals | Strewn Winery
Sparkling Wine Makes Any Occasion Special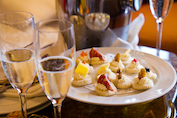 Sparkling wine means bubbles and preferably lots of them but how are the bubbles created? Yeast and sugar are added to a base wine and during a second fermentation - either in the bottle (Traditional Method) or in a pressurized Tank (Cuvee Close or Charmat style) - the yeast converts the sugar into alcohol and CO2. The carbon dioxide dissolves into the wine and voila you have bubbles.
Most Traditional Method sparkling wine, and certainly those from Champagne, are a combination of Chardonnay, Pinot Noir and Pinot Meunier. Cava, Spain's Traditional Method sparkling wine, is made from local grape varieties although Chardonnay and Pinot Noir are permitted.
The base wine for a Traditional Method sparkling wine is typically dry, high in acidity and low in alcohol with fairly, neutral flavour. The toasty bread and biscuit notes are autolytic flavours from the yeast during the second fermentation. By comparison, more aromatic base wines are used for a Tank Fermented sparkling, the most well-known being Prosecco made from the Italian grape Glera.
Strewn's Sparkler is made using Tank Fermentation. The base wine is an aromatic Sauvignon Blanc and we want to ensure the lovely citrus aromas and flavours of lime, lemon and grapefruit are not overwhelmed by yeasty bread and biscuit flavours, and that it has a crisp and refreshing finish on the palate.
A Versatile Food Wine
While the tradition of drinking Champagne to mark celebrations originated in the royal courts of Europe during the late 1700s, where the expensive drink was viewed as a status symbol, sparkling wine is one of the best matches for many dishes.
Sparkling wine usually contains high levels of acidity and a small amount of sugar (sweet Asti being an exception). These two extremes complement elements in almost any food, from rich, buttery salmon to red-hot Thai food. Sparkling wine penetrates to the lower layers of the rough surface of the tongue providing a super cleansing effect n the mouth.
Here are some ideas for food to enjoy with sparkling wine:
Cheese – rich, creamy Brie or aged, hard cheeses such as Parmesan, gouda and cheddar
Dishes that are oily, nutty (especially almonds) and egg-based (scrambled eggs anyone?).
Any pasta or risotto dish, particularly those with cream or mushroom sauce.
Shrimp and shellfish, smoked salmon, caviar, fried calamari, and raw oysters on the shell
Simple tapas style dishes with a touch of saltiness, Prosciutto or Serrano ham
Desserts that are not sweet, such as berries, shortbread cookies, pound cake, angel food cake.s dark or bittersweet chocolate.
And don't forget buttered-popcorn and potato chips!
Comments
Commenting has been turned off.