Wine Wisdom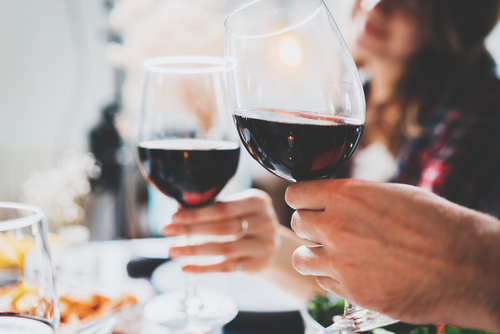 Holidays and entertaining go hand-in-hand and wine can play a starring role in a get-together. Here are some wine tips to consider when you are hosting a small or large gathering.
Pick Your Own "House Wine"
Unless you know guests are wine connoisseurs, a party is usually not the best time to pull out special bottles you have been saving. Instead look for wines that will be crowd-pleasers and choose a white and a red to offer as your house wine which will appeal to a wide range of tastes. These tend to be easy drinking/food friendly/lower in tannin, with 12% or less alcohol content. They are often less expensive and may have a little sweetness.
To determine the mix of red and white wine, go with an even split if you are not sure which your guests prefer. This is a change from the traditional two-thirds white and reflects changing wine tastes.
White wines vary from full-bodied buttery, toasty Chardonnays to crisp, refreshing whites with lots of fruit such as Rieslings and Sauvignon Blanc. Both these styles can pair well with holiday meals. Red wines can be medium or full-bodied but consider choosing reds with softer tannins (big tannin reds cry out for high protein meats such as lamb and steak rather than appetizers or snacks).
The "Wine Bar"
Be a responsible host and pour wine instead of setting out bottles and allowing guests to serve themselves. Plan to serve two drinks per person in the first hour of your event then one drink during each following hour.

Start by pouring less wine than the usual 5-ounces. Stay away from using oversized wine glasses or you may discover the wine doesn't go nearly as far as you expected. For a larger group, you may want to rent glasses (no washing required afterwards!) rather than risk breakage of your own delicate or costly stemware.

If you are offering a selection of wines (e.g. more than one white and red or a sparkling or dessert wine), serve 2 or 3-ounce pours so guests can taste and compare wines throughout your get together.

To help guests pace themselves offer a selection of non-alcoholic beverages, such as sparkling or still water, juice, soft drinks, non-alcoholic punch or cider. And don't automatically offer to refill an empty glass with wine.

Food slows down the speed at which the body absorbs alcohol. Offer veggies, cheeses and light dips during the gathering. Avoid salty, sweet or greasy foods, which tend to make people thirstier. Check out this easy recipe for Emerald Edamame Spread >> courtesy of the Wine Country Cooking School.

How Much Wine to Allow
Wine Math: a 750 mL bottle = 5 (5-ounce) glasses or 6 (4-ounce) glasses. We normally allow one-third of a bottle per person. A 750 mL bottle of sparkling wine (poured into flutes) = 8 servings.

Stand up parties – allow one 4-ounce glass of wine per guest per hour and expect one or two refills. Fill wine glasses no more half full to minimize the risk of wine being spilled while guests are talking and circulating. And have some Wine Away or other red wine stain remover on hand just in case you need it.
Sit down dinners – allow two 4-ounce glasses of wine per hour as people tend to drink more at dinner. Serve water with the meal and keep water glasses full.

Most people drink less at afternoon gatherings than they do in the evening (think about serving lighter-style and sparkling wines).
The right "coolness" for serving
Here is a general guidelineto help you serve wine at the best temperatures.
Whites and rosés: refrigerate for a few hours before serving
Reds: refrigerate for 15 minutes before serving
Sparkling: refrigerate then keep on ice between pours
Remember the cooler the wine, the more refreshing it will taste but the aromas will be subdued.

Last But Not Least – Be a Responsible Guest
In Canada the maximum blood alcohol content (BAC) for fully licensed drivers is 50 milligrams of alcohol in 100 millilitres of blood (0.05). More than that and you may have your license suspended. Driving with a BAC over 0.08 is a criminal offence.
The enzyme in the liver that eliminates alcohol works at different rates depending on genetic background, gender, weight, and food intake before drinking. As a rule of thumb to stay within the 0.05 blood alcohol concentration limit, consume no more than two 5-ounce glasses of wine if you're a man or one glass if you're a woman.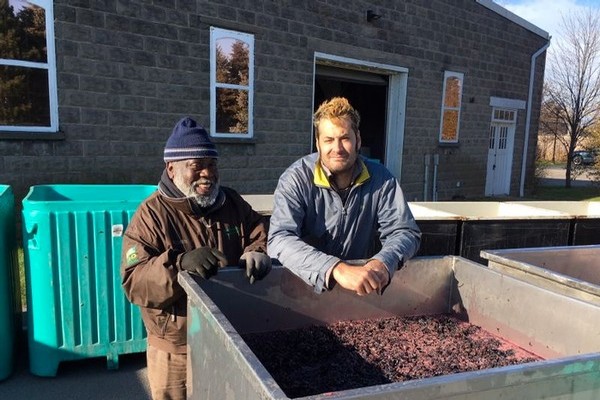 To say 2017 has been an up-and-down year might be a bit of an understatement. But if I had to sum it up, I would say it paid to be patient.

The cool, wet weather during the early part of the year pushed everything back by about three weeks. On November 10, the temperature reached -6C – almost cold enough for Icewine – and we had just started to harvest the red grapes. That said, the six-week run from mid-August through the end of September really helped turn things around. The stars truly aligned during prime ripening time with two weeks of gorgeous weather late September, the only run of days over 30C this year.

Our focus has been on exceptional vineyard management, critically important to ensuring optimum fruit quality and maintaining the soundness of the fruit. We followed our normal practices of shoot-thinning, cane-tucking, canopy-hedging and grape thinning. But where we would normally do one walk through a vineyard to check progress, this year we did two.
Grapes were harvested according to the late season to achieve maximum fruit maturity. Grapes for white wines were harvested first and the sugars in some was higher than expected and the juice is very aromatic. There is also lively acidity where we like it, especially in Riesling and Sauvignon Blanc (2017 SB will have more typical herbal varietal notes). Chardonnays should be real full-bodied and textured. Gewurztraminer has very good typicity with floral and spicy bursting out.

The red grapes - Merlot, Cabernet Franc and Cabernet Sauvignon - tfrom our Home Farm Vineyard and two other small vineyards were all harvested between November 20 and 24, a new record for last pick. This late in the season there is some dehydration on the fruit and sugars are over 25 brix. The result is really ripe, rich, absolutely fantastic flavours. Well worth the wait!

Marc P. Bradshaw
Winemaker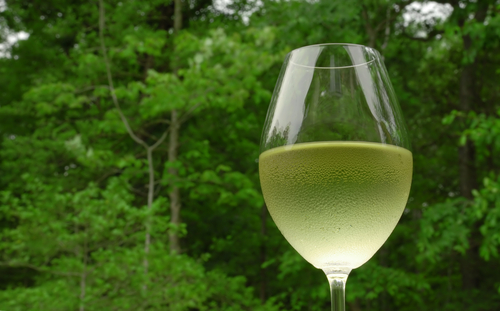 A Little Background
Sauvignon Blanc (the name means "wild white") is a widely-grown grape variety in a number of wine regions around the world. While it has gained prominence over the past 40 years thanks to the efforts of the New Zealand winemakers, its origins go back to 18th century France. In the Bordeaux region, it is primarily used in white blends and Sauterne dessert wine. In the Loire Valley, it is the only variety used to make Sancerre, which is named after the appellation.
Green-skinned Sauvignon Blanc grapes ripen early and do best in moderate summer temperatures that are not extremely hot. Niagara's cool climate wine region is perfect for growing Sauvignon Blanc, particularly in vineyards close to Lake Ontario which also provides some protection against cold winter lows. In our wine region, year-to-year variations are quite apparent which makes every vintage a new tasting experience.

A Refreshing White Wine
Bright, crisp and refreshing are words often used to describe Sauvignon Blanc. With most white wines, "green" notes are an indication the grapes were not fully ripe when harvested. Not so with Sauvignon Blanc. The aromatic pyrazine compounds in the grape itself produce wines with green or herbaceous flavours, such as green peppers, green beans, asparagus and cut grass. These are particularly noticeable when it is a cooler year.

The herbaceous flavours are intertwined with mineral notes, citrus (lime and grapefruit) and fruit (kiwi, gooseberry and green apple). In warmer years, there will be more ripe fruit flavours including peach and tropical fruit such as passion fruit. Sauvignon Blanc is commonly made with a cool fermentation in stainless steel tanks to preserve the lovely aromatics. However, if you like wines that are aged in oak look for a Sauvignon Blanc with Fumé Blanc on the label.

Most Sauvignon Blanc are made completely dry with little residual sugar. The medium to medium-high acidity makes it a refreshing wine to drink. It is best enjoyed while it is "young", within two years after bottling. Best serving temperatures are 7 to 10°C so take out of the fridge about 20 minutes before serving.

Match With
Sauvignon Blanc is one of the few wines that stands up to the flavour of steamed asparagus and goes well with sushi. Its herbaceous notes complement dishes with green herbs such as parsley, basil, cilantro and mint. And it is a classic match with goat cheese and other more briny cheese.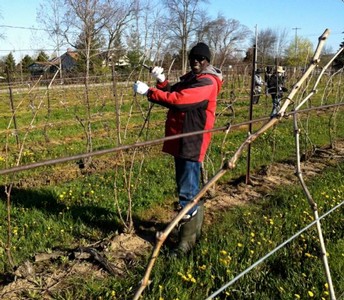 Strewn's vineyard manager Sefton Davy and his crew of eight spent about 10 days in April tying vines to wires that form the trellis. Or to put it another way, they tied about 20,000 individual grape plants over two vineyard locations.

Tying is a necessary step in the process of getting vineyards ready for spring growth.
During pruning, all but two canes on each plant were cut off. The remaining grape canes need to be bent and tied to the fruiting wires so that later in the summer when they get heavy with new growth and fruit, the wires take the weight.

Once the sap in the plant starts to flow and the day time temperature is warm enough that the canes become flexible, they can be wrapped around the fruiting wires. The window to do this is short - in some years it is only three or four weeks. As the temperature rises the buds soften and begin to "stand up". At this early stage of development, the buds can easily be knocked off the cane reducing the possible crop size.

Bending and tying canes requires some dexterity. Normally the cane is bent towards its original axis to prevent it breaking off at the base. Bending the cane away from the axis requires both twisting and delicate handling at the same time.

Grape plants are vines so if they do not grow up the trellis system, they would sprawl on the ground. The trellis system also positions the canes to get maximum sunlight on the grape bunches to develop flavour and positions the fruit for ease of crop management and harvest.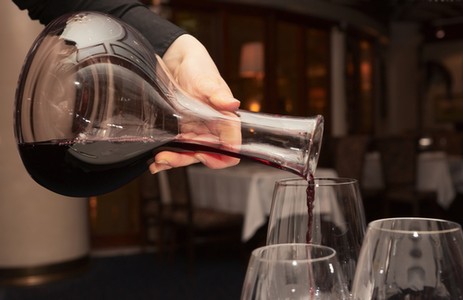 Back in early days of wine drinking, wines came straight from the barrel to the table in an earthenware pitcher. While the ancient Romans introduced glass decanters, it wasn't until the 17th Century that glass bottles became common and the art of decanting became more widespread.
WHY DECANT?

Reason #1: To Remove Sediment
When: Decanting to remove sediment is most appropriate for older red wines and unfiltered wines.

When wine, especially red wine, is stored in bottles for a length of time visible particles, called sediment, can develop. Until more recent days wines were not filtered or only roughly filtered and as a result contained more sediment. Even today some wines are not filtered on purpose. Sediment can also occur in filtered wines when colour pigments and tannins (the astringent compound) combine. Potassium bitartrate (Cream of Tartar) occurs naturally in all wines, and after bottling can form crystals in the wine sometimes called "wine diamonds". Although sediment is safe to drink it generally has a gritty texture and is not appealing.

When decanting to remove sediment, use a gentle touch and try not to disturb it! Your goal is to leave the sediment intact and in the bottle, not to spread it throughout the wine.
Reason #2: To Enhance Aromatics and Flavour
When: Decanting to increase the surface area and letting a wine 'breathe' is most applicable to younger wines..
Once a wine is bottled it is basically 'closed up.' When you pour wine into a decanter, the agitation allows oxygen to mix with the wine. The result is three-fold: it helps release any dissolved gases such as nitrogen and carbon dioxide, opens up the aromas and flavours; and softens the harsh texture of tight, young tannins. Be vigourous when decanting to open up wine and let the wine splash around as it goes into the decanter.

Should You Decant White Wines?
Yes and no. Opinions within the wine industry are mixed about whether there is a benefit from decanting. Those who support decanting say it encourages wines to open up. However most everyday young whites do not need decanting and you do not need to worry about sediment or wine diamonds in white wine.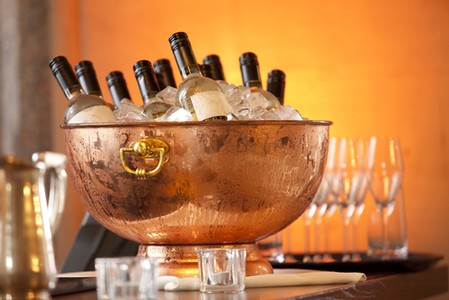 Is there a perfect (optimal) temperature for wine? Maybe not, but serving temperatures are often overlooked in the plans for a meal or an event where wine will be enjoyed. As a general rule of thumb, cooling wines makes them more refreshing but also dulls the aroma. In hot weather, particularly if you are sipping wine outdoors on the patio, you may want to sacrifice maximum flavour for the refreshing quality of a fully chilled white wine and a lightly chilled red.

White Wines:
White wines are often served too cold, which can make them seem less aromatic and more acidic.

Typically, more complex white wines such as barrel aged or fermented Chardonnay should be served slightly warmer at 10-13ºC. Lighter bodied and neutral white wines such as Riesling and Pinot Blanc benefit from more of a chill are are best served between 7 - 10ºC.

Refrigerators are commonly set at 4 to 5ºC so it a good practice to take white wines out of the fridge around 15 to 20 minutes before serving.

Red Wines:
With the advent of state-of-the-art home heating systems, room temperatures have increase. In turn, red wines are often served slightly too warm which can make them seem flabby and less fresh.

Lighter reds are refreshing when served between 10-13°C and medium-bodied red wines are appropriately served between 13 and 16ºC. Serving bigger, bolder and more tannic red wines too chilled will make them more astringent and bitter. We recommend serving slightly below room temperature at 16-18ºC.

Placing most red wines in the fridge 15 to 20 minutes before serving will benefit both the wine and the drinker! Of course if you like your wine warmer or colder, don't forsake what you enjoy - after all you paid for it and you are consuming it!
Temperature:
All wine is stored at the same temperature, regardless of its color. But reds and whites are consumed at quite different temperatures. Too often people drink white wines too cold and red wines too warm, limiting how much you can enjoy the wine. A white that's too cold will be flavorless and a red that's too warm is often flabby and alcoholic.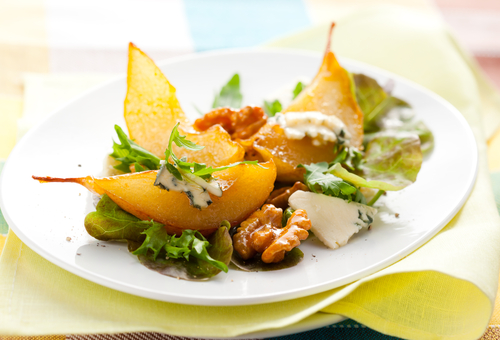 With most of the summer fruit harvest complete, stone fruits are being replaced by apples and pears, which are considered pome fruits. If that term is not familiar, it refers to the family of fruits that have a core of several small seeds, surrounded by a tough membrane (pommes is the French word for apples). More than 15 varieties of apples are grown in Ontario along with five major varieties of pears, with Bartlett being the most popular. These fruits can be the perfect ingredients to a delicious autumn food and wine pairing! After all, what grows together goes together.
Oaked and Un-Oaked Chardonnay
Chardonnay is an ideal candidate to match with fresh orchard fruit. The aromas and flavours of Chardonnay are reminiscent of freshly picked/fallen fruit. Both unoaked and oaked versions can be wonderful matches for apples and pears. Fermenting or aging Chardonnay in oak barrels gives further complexity to the wine. These include elements of vanilla, coconut, nutmeg and cloves, which helps make Chardonnay compatible with a wide array of cooking methods, flavours and textures.
Riesling
If you belong to the ABC School of wine enjoyment (Anything But Chardonnay), then Riesling is your answer! A noble, cool-climate grape, the quintessential characteristic of Niagara Riesling is fresh green apple and ripe, sweet pear. Rieslings pair well throughout the sunny, autumn evoking the orchard scents of freshly picked apples and pears! Dry Rieslings are extremely food-friendly wines.
Pome Fruit and Wine Match-Ups
Here are some examples of how Niagara apple dishes can be paired with Chardonnay and Riesling.
Company coming over? Start the festivities off right with a selection of locally sourced cured meats and a side of apple chutney. The acidity in the wine will help cut through the fat of the meats, while the saltiness will temper the crispness of the wine. The apple chutney will help pull all the flavours harmoniously together. Pair with the Strewn 2014 Riesling ($14.95 - Winery/Online).

Pork and apples are a classic combination Try roasted pork tenderloin with butter-sautéed Niagara apples. The perfect Strewn pairing: 2014 "Terroir" Chardonnay French Oak ($28 - Winery/Online).

Looking for a fabulous local dessert? The Wine Country Cooking School's Apple Cider Cake uses both local apples and local cider to create a wonderfully moist cake that pairs delectably with the 2013 Select Late Harvest Riesling ($18.95 - Winery).

Need an autumn salad? When it comes to pears, roasted pears tossed with mixed greens, bleu haze (smoked blue cheese) and a grainy-mustard vinaigrette makes a fabulous and easy autumn salad. Match with a crisp Riesling such as Strewn's 2015 Riesling Terroir.

Say Cheese - Bartlett pears are fantastic with a wide range of cheese. Top rich, creamy cheese with a generous slice of a Bartlett pear on a toasted baguette. Pair with Strewn's popular Chardonnay Barrel Aged ($14.95 - Winery/LCBO). Bleu cheese, salted nuts and dried pears have also proved to be fantastic with aged Niagara Icewine. The perfect Strewn pairing: an award-winning, Riesling Icewine ($58 - Winery) - a match not to be missed!
Not a Fan of White? Pining for a Red?
Due to the inherent flavour profile and structure (mainly acidity) of apples and pears, sommeliers classically favour white wine pairings. However if your guests drink red wine only, lighter styles of Merlot or lighter Cabernets would work well in many of these cases. The TwoVines Cabernet/Merlot ($12.95 - Winery/Grocery Stores) and the 2013 Merlot Premium ($23 Winery/Online) are two reds that would be more than suitable for those pining for red wine.

Article originally written November 2015; wine matches updated May 3, 2017